Exhibit @ the 2022 Cleveland Expo
16th to 18th September 2022
Redland Showgrounds, Norm Price Park, Cleveland.
Australian Events Marketing invites all Outdoor Adventure related companies to take part in one of Queenslands largest Caravan, Camping, Boating and 4×4 Events, the Cleveland Expo.
Exhibitor Enquiry Form
Become an Exhibitor
The Cleveland Caravan, Camping, Boating & 4×4 Expo is one of the region's largest and best attended outdoor adventure events.
There are over 200 businesses expected to be represented at this event and around 20,000 visitors predicted to come through the gates. This is a massive marketing opportunity that cannot be missed.
2022 will once again see the Redland Showgrounds transformed and filled with a huge variety of local, regional, and national companies showcasing the latest caravans, camper trailers, hybrids, 4x4s, boats and everything in between.
The Expo will also feature dozens of complementary products and services, including holiday and tourism destinations, 4×4 and vehicle accessories, camping equipment, insurance services, tools, gadgets, and heaps more!
100% of polled exhibitors rated this event important to the promotion of their business in the economic climate of 2020.
With local tourism and holidays on the rise, now is the perfect time to place your business in front of this highly targeted audience.
Join us for the 2022 Cleveland Caravan, Camping, Boating & 4×4 Expo, 16th to 18th September at the Redland Showgrounds, Cleveland.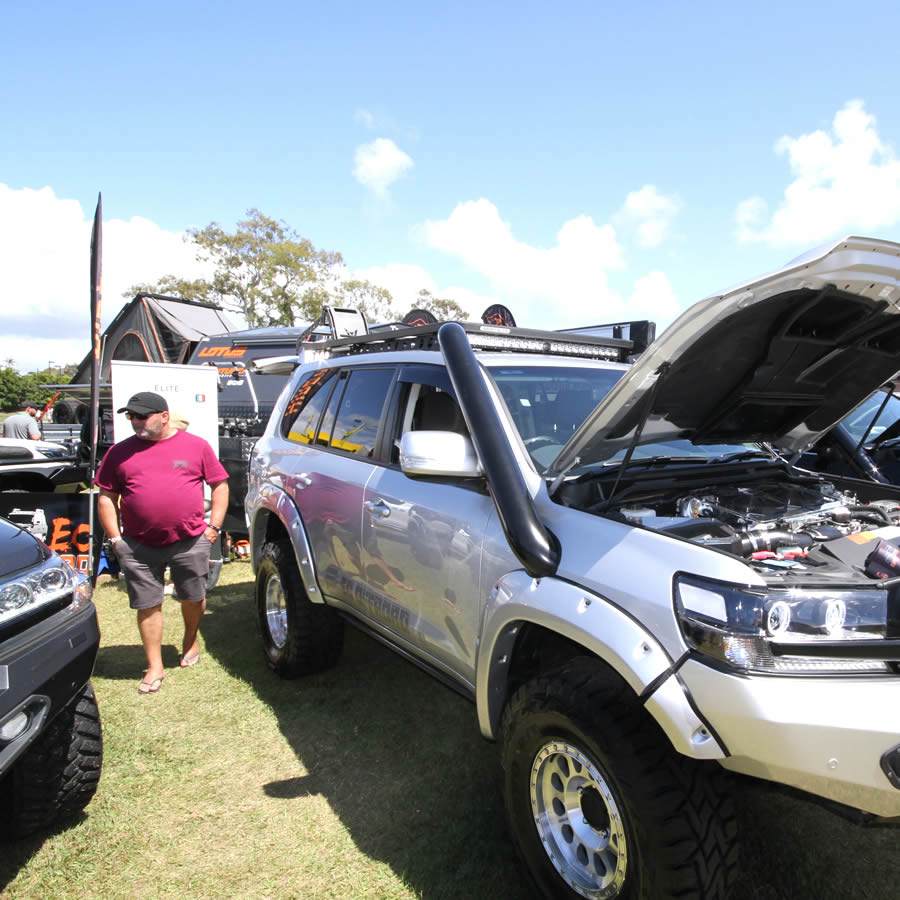 The Cleveland Caravan, Camping, Boating & 4×4 Expo will return to the Redland Showgrounds for three days of trade in September 2022.
There are over 200 businesses expected to be represented at this event and around 20,000 visitors predicted to come through the gates.
Previous exhibitors are provided with first option to re-book their exhibition space during the priority booking stage, after which site space is released for general bookings.
New Exhibitors are encouraged to contact Australian Events Marketing to request an Exhibitor Prospectus by either Freecall 1800 671 588 during business hours, or by completing the online enquiry form.
The event caters for all size businesses, with small covered sites through to expansive outdoor site spaces available.
Site bookings are confirmed on a first in first served basis.

The shows are so well organised which assists us to access the site + know all the compliance and general information needed for a successful outcome. We really like the great team on the show sites and the social side of chatting to the team, seeing the same lovely people and that they know who we are and our products. The team in the office are also wonderful to work with and without their care + support we'd not have the great retails outcomes we've achieved so far. Thank you!
We were very pleased with the sales we generated at this event. At a time when sales are very unpredictable, well done Australian Events
Great setup, we experienced huge foot traffic even during this difficult time with a lot of genuine customers.
The Cleveland Expo is always a great opportunity to promote Bayside Offroaders Club to the community as it is in our area. Thanks to the Australian Events staff as they are always cheerful & very helpful.
Very well run and promoted. Bump in and Bump out was excellent and well
run. Very successful event. We will be exhibiting again next year, and would
recommend this to anyone in the industry.
The Cleveland Expo is a great place to launch our new products and make sales. We also find that we have increased traffic on our website after this event.
We had a great time at the Expo, we especially loved being able to compare different models all in the one location!
We found the Expo informative and it included a large range of products and services to review and choose from.
Felt totally safe at this years event in these crazy uncertain times. Well done. Show did not disappoint
I found this year's Caravan, Camping, Boating and 4X4 Expo at Cleveland provided great benefits to the camping and travel industry. With everything from local tourism information, local vehicle accessory stores and businesses and expert services to new cars, boats, caravans and campers. Local knowledge and services shone through repeatedly. See you in 2020.
We went especially looking for a lightweight caravan and were pleasantly surprised by the choice.
We really enjoyed looking through all of the caravans and camper vans. There was a lot to look at and I liked that the prices were displayed.
We liked that we could compare trailers to caravans to poptops. Certainly helped with our future decision making for travelling.
We had a great day! Was great to see different methods of fishing & casting &to be there for the bream weigh in. Excellent exhibits with plenty to look at. We bought quite a few bits & pieces & especially good to be able to research different products prior to the show by checking exhibitors online. Looking forward to next year already!
We had a great day at the show. Spent a lot longer there than we anticipated. Was excellent to compare all the models of caravans in one location.
Was a great way to see the different types of camper trailers set up. Made it easier to see what sort we wanted.
I visited the Cleveland Expo on 2 days (Saturday & Sunday), one for research and one day to make a more informed purchase. So the multi-day pass worked well for me and was good value, especially if you have young children who have the spirit of adventure in their blood. I was also impressed with the way the event was coordinated and controlled to ensure it was safe for all event participants. It was an informative, clean and safe event for anyone looking to learn more about camping in the best state, in the best country.
Site bookings for the 2022 Cleveland Caravan, Camping, Boating and 4×4 Expo have now commenced.
Companies interested in exhibiting in 2022 are encouraged to contact the Australian Events Marketing office at their earliest convenience.